Home > 제품소개 > 황산고토 네오그린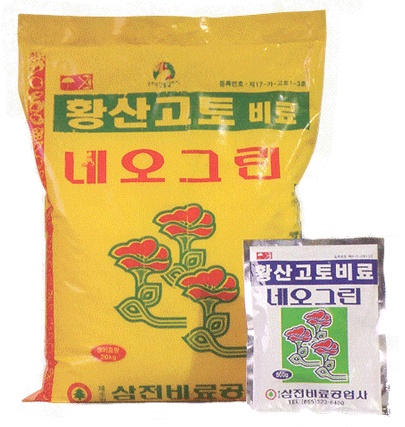 기비용 20kg, 엽면용 500g

-

-
-
네오그린은 엽록소를 구성하는 기본요소로 광합성의 활성화와 생리장애로 인한 식물발육부진해소에 도움이 됩니다.
네오그린은 병해와 약해로 인한 잎의 손실을 신속하게 회복시켜 줍니다.
네오그린은 인산의 흡수 및 세포분열이 왕성한 생장점에 인산대사 및 탄수화물 대사작용을 도와 생육촉진과 결실을 좋게 합니다.

- 포장단위 :
기비용 20kg - 100평에 1포 사용하십시오
엽면시비용 500g - 800∼1000배 희석하여 사용하십시오.

<The Characteristics of Neogrin>
1. As a basic element constituting the chlorophyll, activates the photosynthesis, helps to solve the incomplete development of plants caused by the physiological disorder.

2. Neogrin recovers the loss of leaves caused by damage from diseases and chemicals, promptly.
3. By helping the metabolism of phosphoric acid and carbohydrate at the growing point where the cell division and absorption of phosphoric acid flourish, Neogrin facilitates the growth of crops and makes have a good crop.

<Packing Unit>
20 kg/sack for base manure. Use a pack on 330 ㎡.
500 g/bottle for leaf manure. Dilute it as large as 800 to 1000 times.