Home > 제품소개 > 유기질비료 골분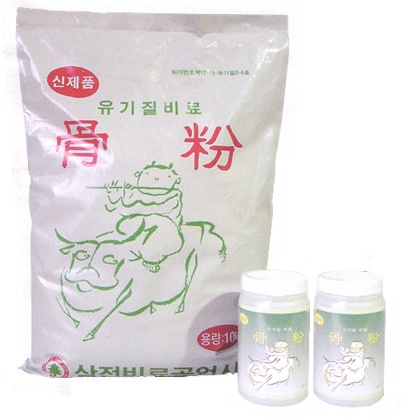 기비용 10kg, 엽면용 500g

우골 또는 돈골 100%를 고온 열처리, 특수 가공으로 고농축시킨 유기태 인산칼슘이므로 흡수력이 높고, 모든 작물 및 과채의 색깔과 맛을 좋게하며 토양에 유익한 자연 미생물을 활성화시켜 연작장애와 산성화를 방지하며 뿌리발육을 왕성케 합니다.

-
-

-
-
뿌리의 세근 발달과 발근 효과가 매우 좋으며 단맛과 향이 뛰어나 농산물의 품질을 향상시켜줍니다.
토양중의 불용성 인산을 가용성으로 이동시키는데 도움이 되며 염류장애 경감과 수액 이동이 용이하여 작물의 생리병 예방에 좋습니다.
과채류나 잔디에 사용시 뿌리 활동이 왕성해지므로 조기 노화를 방지할 수 있습니다.
과실의 착색증진, 당도증가에 탁월한 효과가 있으며 기비용으로 사용시 유효 미생물의 번식을 활성화 시켜 줍니다.

- 포장단위 :
기비용 10kg - 300평에 기비로 사용하십시오
엽면시비용 500g - 물 25말에 희석 300평 사용하십시오.

<The characteristics of the powdered bones>
The powdered bones are the organic calcium phosphate, by highly concentrating ox-bones and hog-bones 100 percent through the special processing and the heat treatment at the high temperature of 1200 degrees. For that reason their absorption rate is high and makes the colors and tastes of all the crops, fruits, and vegetables good. Also, by activating the useful natural microbes of soil, this product accelerates the growth of roots, makes the repeated cultivation possible, and prevents from the acidification of soil.

<The Manure Effect of the Powdered Bones>
1. This product has effects on developing the minor roots and the burst of roots. Because this is very sweet and has good flavor, it improves the qualities of the agricultural products.

2. This fertilizer helps to migrate the insoluble phosphoric acid in soil into the soluble one. Also, by lowering the salt deficiency in soil and facilitating the migration of the sap, it prevents from the physiological diseases.

3. In the case of using this fertilizer at the lawns, fruits, and vegetables, the operations of roots increase. So it can prevent from the early aging process.

4. This fertilizer has good effect on advancing the coloration of fruits and vegetables, and increasing the sugar content. In the case of being used as a base manure, it activates the propagation of the available microbes.

<Packing Unit>
10 kg/sack for base manure. Use a pack on 990 ㎡ for a base manure.
500 g/bottle for leaf manure. Use a bottle on 990 ㎡ for a leaf manure after diluting it in 450 ℓ water.